Routes
Maps and routes for pedestrians
There are many ways to get to know Vilnius: by lifting your eyes when everyday travelling to work or educational establishment, when strolling during a free time through its places undiscovered so far, or running around cosy and green parks of the city. We invite you to discover and experience Vilnius every time in a different way.
Dviračių ir pėsčiųjų takų tiesimas
Vilnius siekia, kad kuo daugiau pilietiškų žmonių įsijungtų į diskusiją sprendžiant svarbiausius miesto susisiekimo klausimus. Visa darnaus susisiekimo infrastruktūra kasdien naudojama tūkstančių vilniečių, kurie puikiai žino: kas, kur ir kodėl yra arba nėra patogu, todėl atveriame prieigą prie visų infrastruktūros planų ir projektų laukdami Jūsų pastabų, vertinimų ir konstruktyvios kritikos.
Frequently asked questions
Bicycles are permitted to be transported only on the vehicles that are marked with special bicycle-permitting signs. A passenger with a bicycle can enter only via the second door of the vehicle next to the special dedicated area for transporting bicycles. The bicycles are transported in a manner which does not impede safe and comfortable journey of other passengers.
Currently bicycles can be transported on the buses 1G and 3G that are easily recognisable by the exterior design of the vehicle and by the caption "Velobusas". These buses are marked by special bicycle signs on the schedules and timetables so that the passengers know in advance when a vehicle adapted for bicycle transportation will arrive.
Scooter, Segway, and skateboard can also be transported on the vehicle for free. They do not have to be attached to anything on the vehicle.
Related links
Pedestrians and strategy of Vilnius city
Every resident or guest of Vilnius is first of all a pedestrian, and already now every fourth trip in Vilnius is done on foot. Good condition for a pedestrian communication is one of the priorities of sustainable city.
Documents and open data
Get acquainted with the quality standards of walking and cycling paths. We present a plan of special cycling paths and a general plan of Vilnius city.
Research and reports
Check the results of surveys on cycling and walking in Vilnius.
.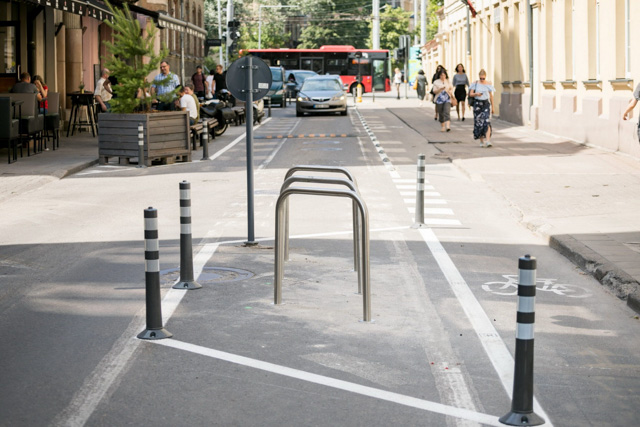 Stands for bicycle
We work to ensure that there are places in the city where people could lock their bicycles securely and conveniently. A simple 80 cm high upright U-shaped bicycle stand is best suited for this purpose.
Micro-mobility sharing systems
Rolling in Vilnius is possible not only by own bicycle or kick scooter, but also using sharing services. During a warm season, you can choose a bicycle or a kick scooter for your trip from several companies.
Multimodalinės aikštelės
Tai specialiai įrengtos vietos, kuriose galima palikti savo įprastus ar elektrinius dviračius, paspirtukus, o kelionę toliau tęsti pėsčiomis ar viešuoju transportu, patogiai įsėdus šalia aikštelių esančiose stotelėse.