Discounts for students. A long-term ticket is a good choice!
Full-time students are subject to a 50% discount on short-term, paper tickets purchased from the driver (are not temporary available at the moment).
For full-time students there is a 50% discount for short-term (30 min, 60 min) tickets.
For full-time students, there is a 80% discount for long-term tickets (1 day, 3 days, 5 days, 10 days, 30 days, 90 days, 180 days, 270 days, 365 days).
A long-term ticket is a good choice! More information is available here.
Ticket on your phone. Buy a ticket anywhere and anytime!
m.Ticket and Trafi apps allow you to plan a trip by public transport in Vilnius, choose the fastest and most convenient route, view bus and trolleybus timetables, monitor public transport movements in the capital in real time and quickly purchase, accumulate and use tickets directly on your phone.
Why it is worth to use m.Ticket or Trafi?
A possibility to activate several tickets at once
Fast payment by bank card
A possibility to transfer the ticket to another phone
A possibility to plan the route
The card "Vilniečio kortelė" (Vilnius Resident Card) can be purchased and topped up in the following places:
Self-service (for topping up only);
Customer Service Centres located at Gedimino pr. 9A (Kudirka Square) or Geležinkelio g. 16 (Vilnius Railway Station, Central building);
Supermarkets Maxima and RIMI;
Branches of Lithuanian Post;
PayPost branches (for topping up only);
Narvesen, Lietuvos spauda and Spauda mini shops.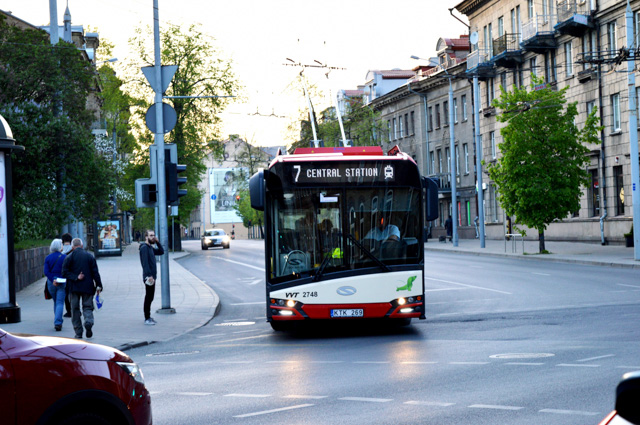 Vilnius Bus Station and Vilnius Railway Station
Travel by public transport when arriving or departing from Vilnius Bus Station or Vilnius Railway Station. You can also find our Customer Service Centre at Vilnius Railway Station, where all questions will be answered, and you can buy tickets for a trip on buses or trolleybuses, and also get information about other sustainable ways of moving around in the city.
Travel to and from Vilnius Bus Station and Vilnius Railway Station by 1G, 2G express buses, 1, 2, 3, 4, 12, 13, 16, 19, 23, 31, 34, 41, 42, 53, 54, 58, 61, 74, 78, 82, 89 and 102N, 103N (night) buses, also 1, 2, 7, 15, 16, 20 trolleybuses.
Check the timetable or scan the QR code to see the schedule in real time, visit m.stops.lt or plan your trip here.
Buy a ticket on your mobile phone or in the card "Vilniečio kortelė" (Vilnius Resident Card), which you can replenish with electronic money or tickets.
Activate your ticket and enjoy your trip!
Tips for those who pedal, roll and walk
A detailed map for cyclists. Stands, pumps, rental and drinking water stops are available here.